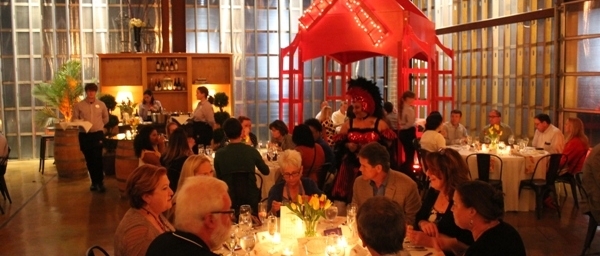 ---
We call it a "FOODCATION"... Half the experience of traveling the world is the food, but when life gets in the way and vacations are few and far between, don't let your palate and sense of adventure take a backseat. Take a journey of gastronomic proportions, global cuisine is not as far away as you think.
The last of the 2017 Culinary Adventures Dining Series took place on November 3rd, at our exclusive on-site venue, The Laurelbrook. "An Evening in Paris" complete with a giant Moulin Rouge windmill replica and authentic Can Can girl, Meme Khalaff, was met with rave reviews. The menu included both classic French cuisine, and unique interpretations created by award-winning Executive Chef, Rich Carter.
COCKTAIL HOUR FEATURING PASSED HORS D'OUEVRES BY OUR EXUBERANT TEAM OF TOUR GUIDES:
MAINS:
THE GRAND FINALE:
Act now, the 2018 Culinary Adventures passports are now available. www.cateringworks.com/culinaryadventures
Sound delicious? It was! These thematic events are anything but ordinary, and a great way to entertain clients and celebrate your employees. Catering Works is offering a limited number corporate sponsorship opportunities for the 2018 series. Contact us today to learn about the details!
» BACK TO RECENT POSTS
---
+Categories
+Blog Archive